On Sunday I participated in a very cool workshop designed to help entrepreneurs further their business. Sitting at tables configured into a horseshoe shape in the beautiful Meridian building on 16th Street, I sat amongst a dozen or so other participants as we listened to three entrepreneurs pitch their companies and be vulnerable about where they needed help.
Each of us, experts in different areas, offered ideas. The unique element to this is that nobody can talk about who they are, what experience they have, or even use their last name. This unique format helps the entrepreneurs hear everyone's feedback and suggestions at face value instead of tagging each comment with a filter based on that person's established credentials. Maybe it's a brain surgeon that offers up an idea on how to fix your online storefront distribution problem – but his advice is sound and could have just as easily come from Jeff Bezos of Amazon.
Only at the end of the session are participant's identity revealed. It's a cool process and this was the first one in Washington, DC. Thanks to Meridian International for hosting this collaborative workshop. You can find out more about House of Genius here.
My letter today is to Toma, a cofounder of House of Genius who was at the event.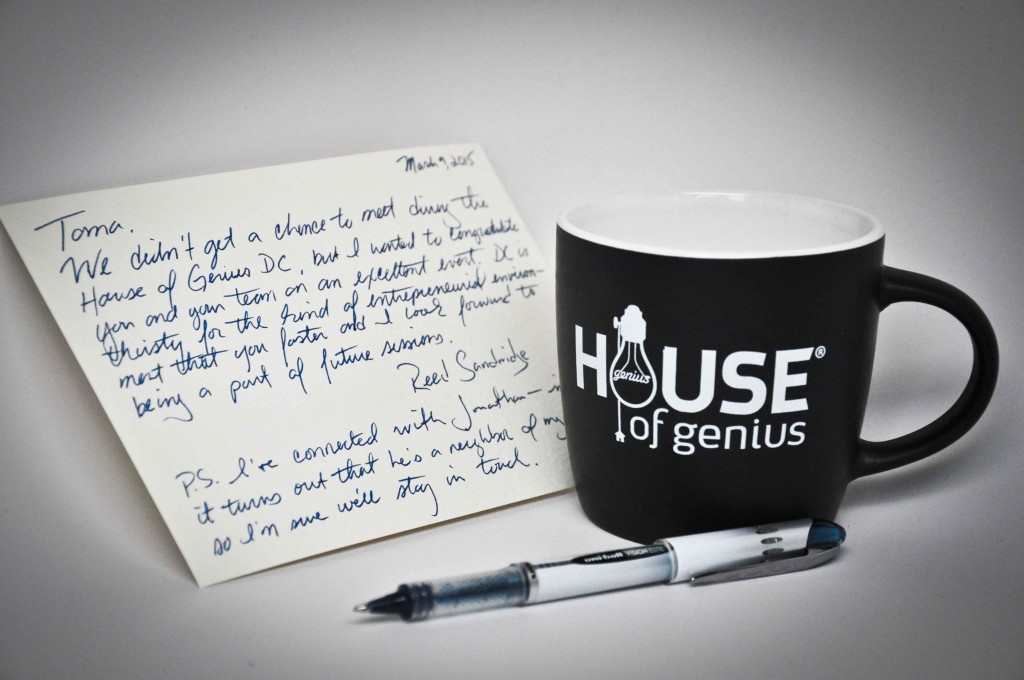 Toma,
We didn't get a chance to meet during the House of Genius DC, but I wanted to congratulate you on an excellent event. DC is thirsty for the kind of entrepreneurial environment that you foster and I look forward to being a part of future sessions.
Reed
PS. I've connected with Jonathan – in fact in turns out he's a neighbor of my brother so I'm sure we'll stay in touch.