One of the great stories this Spring Training was that of Clint Robinson. The 30-year-old has spent his professional baseball career playing for a variety of minor league organizations. The Nationals invited him to Spring Training with the hopes of making the 25 man roster and what do you know, he made it! It's the kind of story that makes you want to support those who have worked so hard for so many years for this moment. Clint earned it and I'm excited to watch him play this year.
Now if I could just get Clint to come out and help my softball team with our hitting. Bryce Harper joined us a few years ago – so it could happen!
Let's go Nats!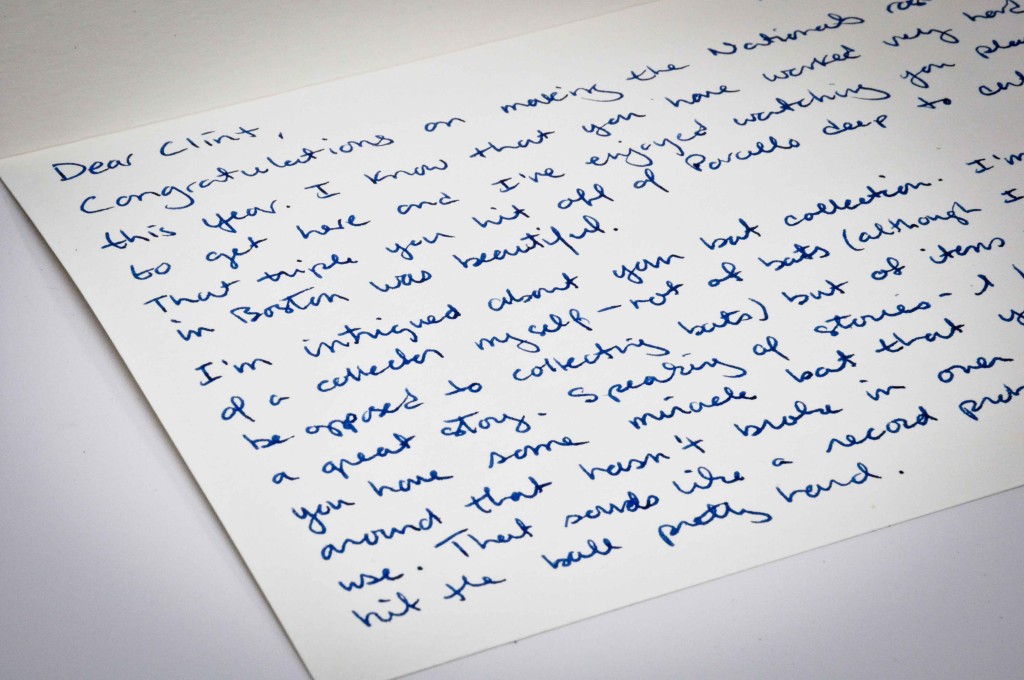 Dear Clint,
Congratulations on making the Nationals roster this year. I know that you have worked very hard to get here and I've enjoyed watching you play. That triple you hit off of Porcello deep to center in Boston was beautiful.
I'm intrigued about your bat collection. I am a bit of a collector myself – not of bats (although I wouldn't be opposed to collecting bats) but of items that tell a great story. Speaking of stories, I heard that you have some miracle bat that you are carrying around that hasn't broke in over two months of use. That sounds like a record probably for you – you hit the ball pretty hard.
Anyway, I'm excited to cheer for you this year. I'm a huge Nats fan and want to welcome you to our city and wish you a great season – and many more to come. Good luck tonight against the Marlins.
Reed Sandridge
(@ReedSandridge)
P.S. I read that your wife Samantha is expecting. Congratulations to you both. Enjoy this special moment in your life.