No, this is not a letter to that Jesus…it's a letter to Jesús – my favorite taquero. If you are in the DC area you have to try Jesús' tacos. I lived in Mexico for a year and Tacos El Chilango is the real deal. If you have any doubt, check them out on Yelp.com – I kid you not that this truck has the highest rating of all restaurants in Arlington County. That's insane – and awesome all in one. I love these guys – they are part responsible for my overall happiness in DC and also part responsible for the 15 pounds I can't seem to lose.
You can find Jesús at the corner of 14th Street N. and N. Quinn Street every day but Sunday. Jesús' brother Juan Antonio has opened a brick and mortar shop at 1119 V St NW which is the same, actually it has a bit more expanded menu, but I still prefer the truck.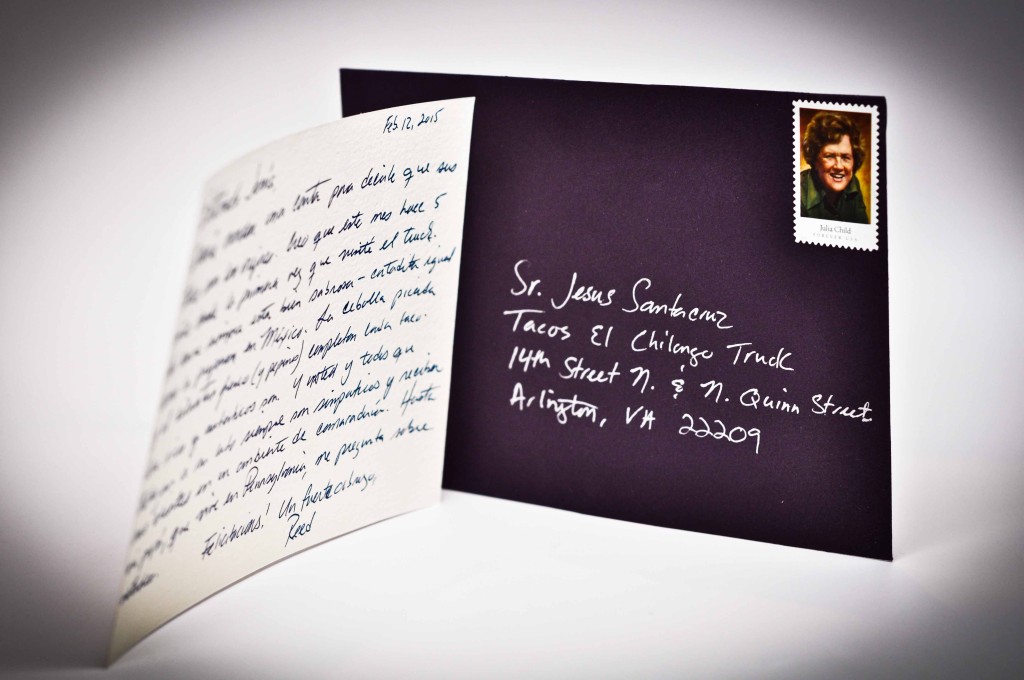 (English translation)
Dear Jesús,
I wanted to send you a letter to tell you that you have the best tacos! I think that this month marks 5 years since the first time I visited the truck. The meat is always tasty – cut just the way they do in Mexico. The diced onion and fresh cilantro (and cucumber slices) complete each taco. They're delicious and authentic. You and your team always are kind and treat your guests like friends. Even my Dad, who lives in Pennsylvania, asks about you guys.
Congratulations and best regards,
Reed