Last week I had the distinct pleasure of receiving a letter from someone that I have never met. Myra found me online – she's trying to do 52 new things this year and she just checked off "write a stranger."
I did a bit of Googling and found that Myra, who didn't list her last name which made it a bit trickier to find her, had a wonderful blog. And stop your stalker thinking right there. I'm not a stalker but I'm pretty good at the Google.
Seriously, definitely check out her blog – she's makes beautiful handmade cards, posts all kinds of photos and even tells you how to make zucchini bread! Hopefully Myra's commitment to explore new experiences in 2015 will also inspire you. I'm going to try to bake some of that zucchini bread!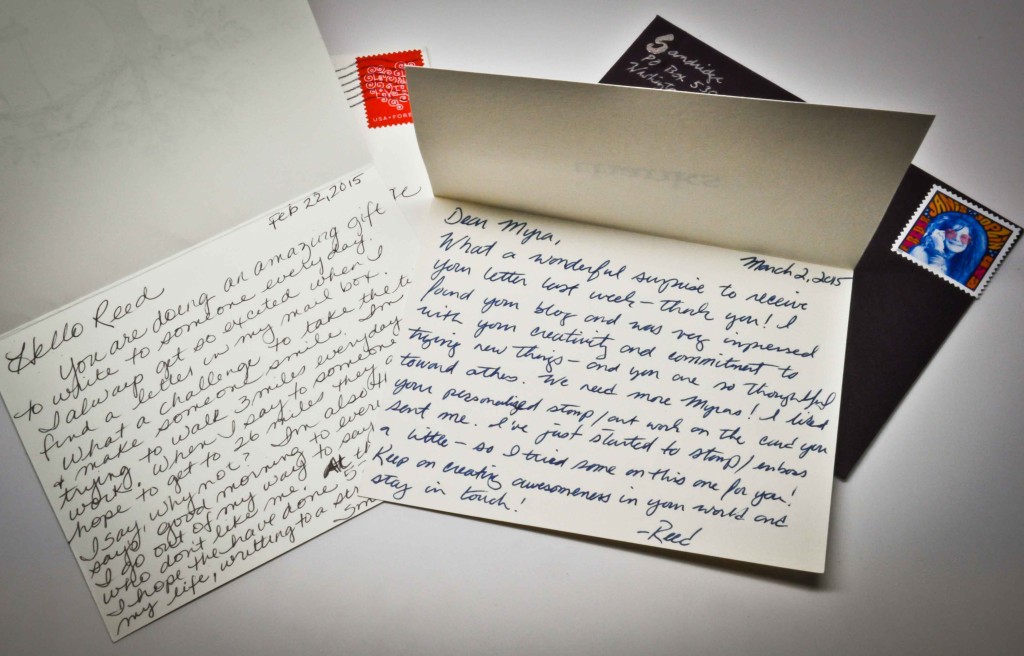 Dear Myra,
What a wonderful surprise to receive your letter last week – thank you! I found your blog and was very impressed with your creativity and commitment to trying new things – and you are so thoughtful toward others. We need more Myras! I liked your personalized stamp/art work on the card you sent me. I've just started to stamp/emboss a little – so I tried some on this one for you! Keep on creating awesomeness in your world and stay in touch!
-Reed