Sometimes all the planets are aligned and weird things happen – like March 14th (3.14.15) of this year being "Pi Day." Today is no exception. I should check if there is a full moon.
Happy birthday Rachel!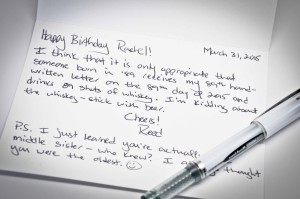 I think that it is only appropriate that someone born in '89 receives my 89th handwritten letter on the 89th day of 2015 and drinks 89 shots of whiskey. I'm kidding about the whiskey – stick with beer.
Cheers,
Reed
P.S. I just learned you're actually the middle sister – who knew? I always thought you were the oldest.