A week ago today my aunt died after declining significantly in health over the past two years. She was a very special person for me. Every time my mother went into the hospital, Aunt Sue was there. She'd show up the same day and stay as long as she was needed.
Aunt Sue's health started to decline in recent years. After losing her son and her best friend, I noticed her attitude changing. She seemed alone in this world and would frequently tell me that she no longer wanted to live. Two years ago her health rapidly started to deteriorate. She started showing clear signs of dementia and became very frail.
Over the past two years I called her, visited her in Tennessee and of course wrote her handwritten letters. But she was no longer the person I once knew. For the past 18 months she was living at an assisted living center. The staff there took tremendous care of her and I wanted to thank them for everything they did for my aunt.
RIP Aunt Sue – I love you very much.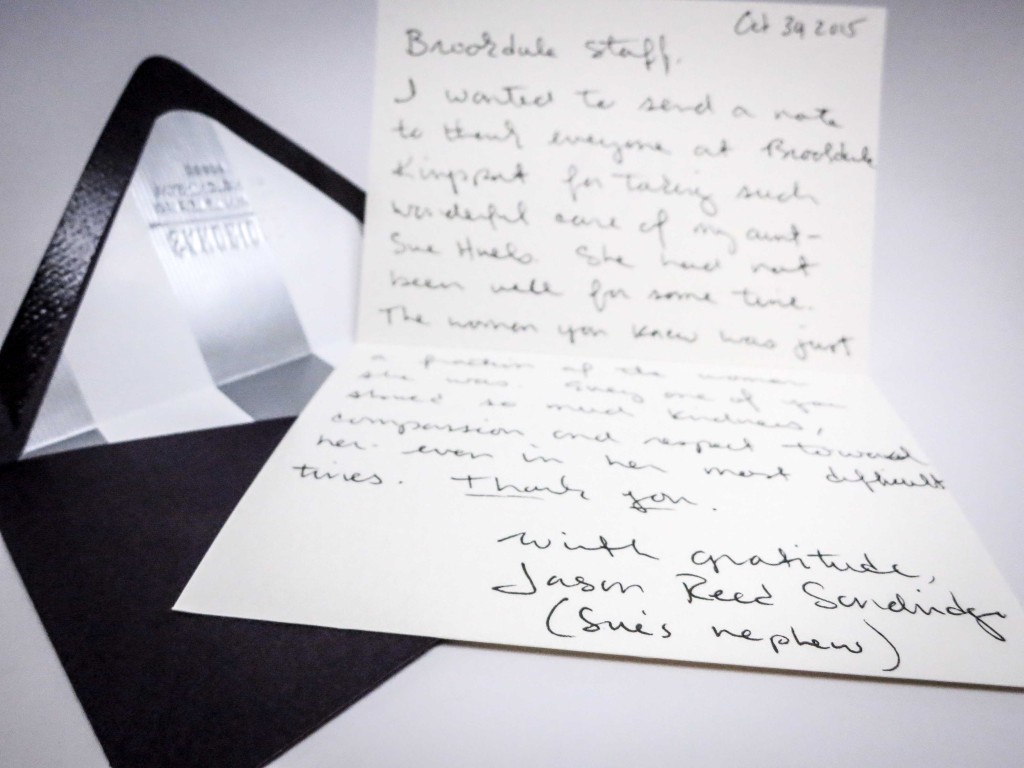 Brookdale Staff,
I wanted to send a note to thank everyone at Brookdale Kingsport for taking such wonderful care of my aunt: Sue Huels. She had not been well for some time. The woman that you knew was just a fraction of the woman she was. Every one of you showed so much kindness, compassion and respect toward her – even in her most difficult times. Thank you.
With gratitude,
Jason Reed Sandridge
(Sue's nephew)