I love when businesses help their community. Today's recipient works for DC Brau, a brewery here in Washington, DC that was tapped in 2009. If I'm not mistaken, it was the first brewery inside the District since the 50s.
I stopped by DC Brau yesterday to pick up some refreshing locally brewed libations for the Street Sense Excellence in Journalism Awards that were held last night at Wilmer Hale's beautiful offices on Pennsylvania Avenue. Mari greeted me at the brewery and was very kind to provide Street Sense with this generous donation.
The awards are a great way to recognize some of the most profound stories from the last year on the issue of homelessness. Some of them inspiring, others bone-chilling. It's an issue that doesn't receive a lot of support because people often believe that the problem is that those experiencing homelessness are lazy and just need to get a job. Of course there are folks like that, but the data shows that the problem is much more complex than that. Street Sense wouldn't be able to provide the services that it does without generous help from our supporters and friends in the community. Thank you again DC Brau!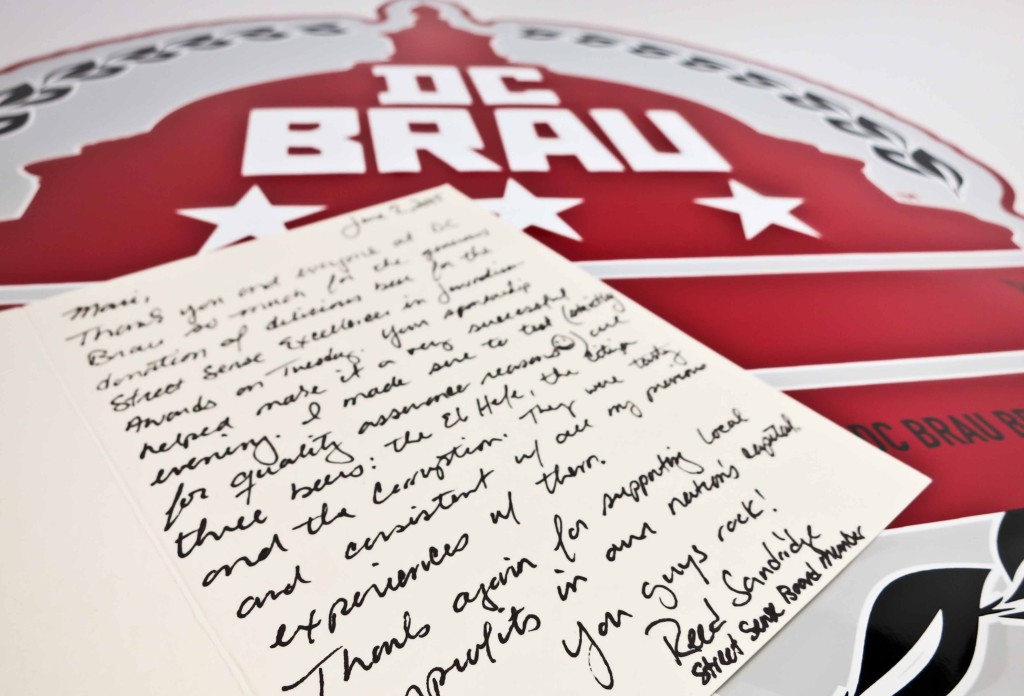 Mari,
Thank you and everyone at DC Brau so much for the generous donation of delicious beer for the Street Sense Excellence in Journalism Awards on Tuesday. Your sponsorship helped make it a very successful evening. I made sure to test (strictly for quality assurance reasons) all three beers: the El Hefe, the Citizen and the Corruption. They were tasty and consistent with all my previous experiences with them.
Thanks again for supporting local nonprofits in our nation's capital. You guys rock!
Reed Sandridge
Street Sense Board Member