Wow…what a crazy end to the Super Bowl last night – I still can't believe it.
Today's handwritten letter recipient and Super Bowl champion quarterback Tom Brady have something in common. They're all about texture. When questioned about Deflategate, Brady said that it was all about the texture of the footballs.
Chef Janny Kim of Bistro Blanc in Glenelg, MD agrees, "I'm all about texture." He was referring to food though, not footballs. The 28-year-old self-taught chef is delighting customers at this Howard County hidden gem. I was with a group of friends at the Chef's Table that featured a 10 course mouth-watering menu.
The aerated celery soup, the grouper, suckling pig, the 29 day dry-aged ribeye and spicy dark chocolate ganache were my favorites, but they were all very good. I've never written a chef to tell them that I enjoyed there food – but why not?
I even found a postage stamp that featured Edna Lewis – famed James Beard awarded chef known for her southern style culinary creations.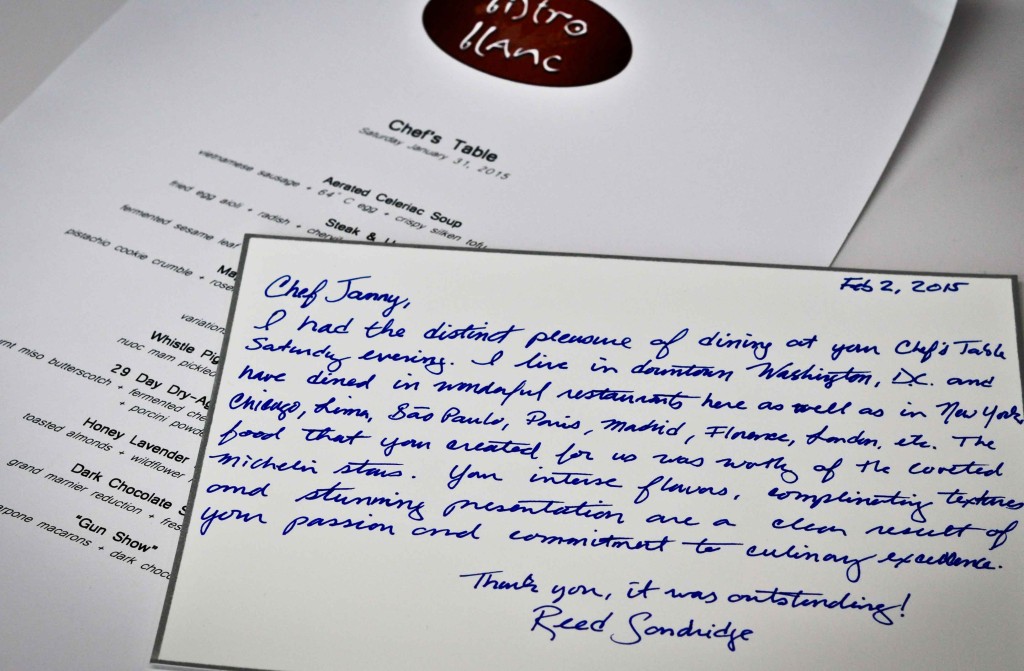 Chef Janny,
I had the distinct pleasure of dining at your Chef's Table Saturday evening. I live in downtown Washington, DC and have dined in wonderful restaurants here as well as in New York, Chicago, Lima, Sao Paulo, Paris, Madrid, Florence, London, etc. The food that you created for us was worthy of the coveted Michelin stars. Your intense flavors, complimenting textures and stunning presentation are a clear result of your passion and commitment to culinary excellence.
Thank you, it was outstanding!
Reed Sandridge